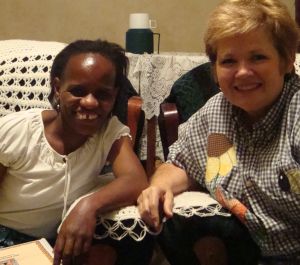 Most of you know of my loooong involvement with a group called Moms In Touch International. Well, I had the privilege of meeting the country coordinator, Mwawi Nyirongo! She is one busy lady!!
If you remember earlier in my trip, I visited the Crisis Nursery and fell in love with all the babies waiting for homes. Well, I got out the information on how to contact Mwawi and give her a hug from MOMS only to find out that she is in charge of the nursery, but hadn't been there the day I had visited.
What an amazing woman; no kids of her own, but the mom to many, and a heart to have her country praying for their children.  I left her a Village Prayer Guide (from Leslie Lewis) and a huge hug from praying moms everywhere.
Tags: crisis orphanage, leslie lewis, lilongwe, moms in touch, prayer