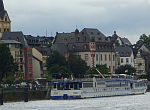 Welcome to the M/S River Aria, our home for the next 14 days as we float down the Rhine and Danube with 145 strangers.
First stop, Cologne.  
They have a huge Gothic cathedral and it's the home of 'eau d' cologne" (really!), and you can pull up  to the side of the city and get off your boat and see all of it.
We will be going thru 66 locks and traveling 954 miles and making a lot of friends.