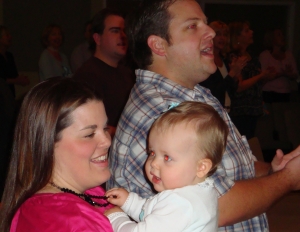 Abigail Grace Morales, heir to the Morales fortunes, was dedicated at Green Valley Church this past sunday. Family and friends looked on while Pastor Doug Kyle officiated. Dressed in a tasteful smocked creation in robin's egg blue, the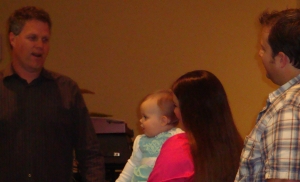 center of attention was basking in all the praise that her excellent  behavior deserved.  Also in attendance were Miss Abby's grandparents, Uncle Andy and Aunt Trisha, and a congregation of friends. Missing the soire, but with us in spirit were Uncle Jonathan and Aunt KC.
A light repast was held at Pat and Oscars , where all were made welcome by the management. The guest of honor bid us allgoodbye to return to her home and take her nap. Everyone in attendance is still all abuzz at the perfect occasion. God was glorified.