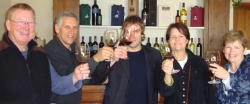 What a great day!  Our awesome driver, Alessandro, picked us up on our doorstep and whisked us off to a day of wineries, meandering, and gorgeous scenery.
We visited the Caparzo Winery for a great, informative tour (with the cutest guy) and tasting!  All of the famous Brunello di Montalcino wines must age a minimum of 5 years and only contain sangovese grosso grapes from the immediate area!  Then we toured the Barbi Winery and indulged again.  We had a mighty fine lunch on their property including an awesome "bread soup," taglietelle, and sausage with white beans.  We REALLY got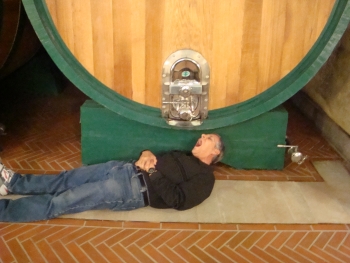 into this.
We were ferried to Montapulciano and dropped off at the top of the hill-city, so we could meander down.  Another unique, but totally Tuscan outing.  Steve didn't have to drive and we were escorted via Alessandro's Mercedes mini-van on rolling hills outlined in cypress and vineyards. Viva ITALIA!