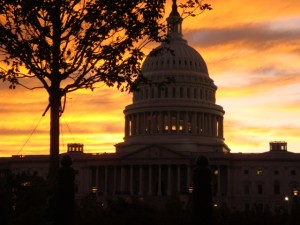 Today we ventured out and hit 3 Americon icons. First the Supreme Court, then the Capitol with its new visitors' center, and then the Library of Congress (new to me).
The Supreme Court is awe inspiring, and not as great a room as you would expect, tho' the edifice if humbling. There is a basketball court above the Court Chambers and a workout room, and THAT is the highest court in the land.
We were very lucky with a slow monday, as we were able to cross the street and get a Capitol tour without waiting. Very inspiring and also a clue from my book…..
Then the Library of Congress where we saw a Gutenberg Bible, the Jefferson Library and a couple more clues.
This silly book, The Lost Symbol, is a fun read and makes the capital have another dimension. If you read Angels and Demons, it was all about Rome and was fun to chase after when we were there.