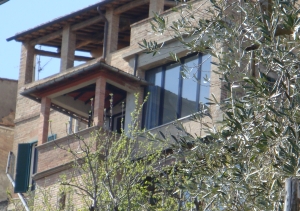 We live in a beautiful hill town, filled with buildings  of stone, erected over 500 years ago (obviously some more recent, but still OLD).  The earthquake struck a similar village on the other side of the mountains.  We really can identify with  the scenario of the belltower collapsing.  The belltower  in this town is right outside our door, but it was retrofitted 8 years ago .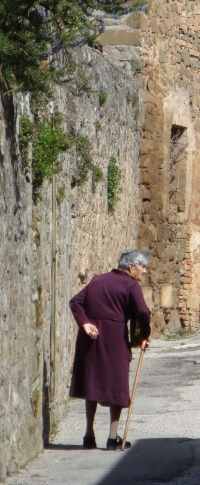 Our life has slowed down.  We take a long walk and explore and then  the belltower tolls 100 times at noon to alert the inhabitants that it is Lunch Time.  We have a bigger meal at that point (and a nap or read), followed by more walking and a little wine-time.  We have to use an internet cafe while we are here so we are trying not to impose (tho' we do have to buy something each time we are here).  
Yesterday we met a couple who are here from the US who have visited here 10 times (from N. Carolina).  We hope to hook up and pick their brains. 
Because it is Holy Week, the wineries are not open for visits, so we are staying close to home.  I got a chance to meet with Padre Piererino (little Peter) and go over the Pasqua service and I am on for Maundy Thursday as well.  I bet you never knew I could play in Italian, although it's better than my speaking!  The photo above is our place.  We have the large window (which is the guest room!) and covered terrace (where we eat breakfast) and shuttered windows both to the left and the right (not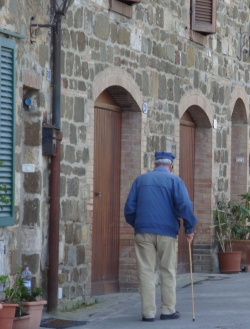 the top level).
We really appreciate all your concern for our safety.  We are fine, but still would appreciate your prayers for our safety (and no aftershocks). 
In the meantime, you will find us making our way through the streets of this quaint village. Ciao!
Tags: belltower, earthquake, easter, internet