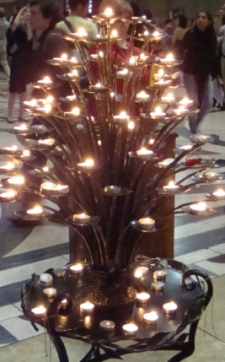 We conquered train travel by rolling down the hill from our apartment to the Buonconvento Station and catching a 2 hour train directly to Florence!
It was a little intimidating for at first, but along with the Jensons, we caught the train so that we could get closer to town and got ourselves to the Duomo. We found it amazing on the outside, but a real bore on the inside.
Steve and I continue to pray inside each church we visit, for a European revival of faith. Inside each church we also light a candle for my little church back home. All of the churches still have their altars banked with Easter flowers and it is very pretty!
We had made a reservation at the Uffiziand we were there at our appointed hour of 13:15 (they use a twenty-four hour clock everywhere). I think we managed to see what we wanted to see: "Birth of Venus" by Botticelli and a painting by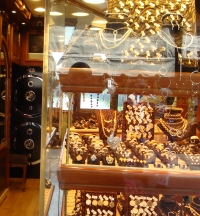 Leonardo di Vinci. The copy of the statue of "David" by Michelangelo in the public square was good enough, rather than face more lines to see the original.
We headed to the Ponte Vecchio ("old bridge") which is covered with jewelry stores! We consumed more gelato, tried cannoli, and had a waffle sandwich (fudge sauce, gelato and whipped cream) that was to die for. Hey, rolex replica Italy isn't only about wine and pasta! We got back to the train, and shared a copy of USA Today while we bounced back home after an amazing day.
Tags: birth of venus, botticelli, david, duomo, easter, florence, jensons, leonardo de vinci, michelangelo, pasta, ponte vecchio, steve, train, uffizi, wine