We have a bunch of painting to finish tomorrow, our last full day here at Partners in Hope.  But the BIG project is done. We were to paint a peaceful African scene in the Education Room. It is where newly diagnosed AIDS patients come to learn how to live with the virus. So it is a fearful and stressful time for them.
Our goal was to give them some tranquility. The painting was massive and there are lots of landmarks represented:  Mt.Mulanje, Zomba Plateau, Lake Malawi, Liwonde game preserve, tea plantations, and Psalm. 121:1-2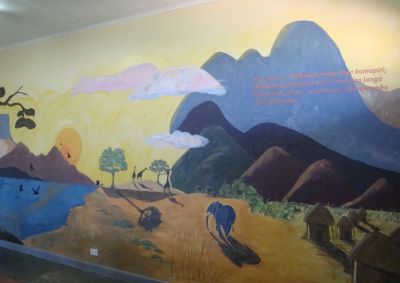 We are thrilled that on Friday morning they want to dedicate all our work during their morning devotion service.  They want to talk about the efforts and then for us to give them all a tour. That's quite an honor we don't take lightly. It has been an amazing blessing to US!
Tags: aids, lake malawi, lilongwe, liwonde game preserve, mt mulanje, partners in hope, psalm 121, takambe youth center, virus, zomba plateau