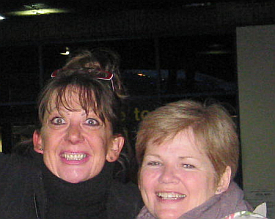 When making plans for this vacation, we couldn't stop in Europe with out dropping in on Gail and Karl; they were even thinking of joining us on the continent for some travel.
So we locked in two weeks with them. Gail has the flower shop over here and has frequently helped me in my shop over the last 7 or 8 years when she has come for extended stays in the states.
But Gail died in her sleep the day before Easter and we are here and she isn't. I can't begin to tell you how such a vibrant, dynamic friend has left a hole in the lives of those who knew and loved her, as well as the entire town of Barnoldswick.
To be with her family and friends as well as staying in her home and sharing memories is special but difficult, healing but bittersweet. And the only response I know of when someone dear is gone to soon, is to live a bigger life and try to embody some of their passions.  We miss you, sweet friend.
Tags: barnoldswick, easter, flowers, gail, karl