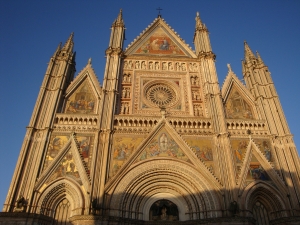 The town on the mesa built on porous rock and over 1000 caves underneath served as our prelude to Montalcino.  I think their Duomo (cathedral) is my 2nd favorite after Sienna (no 3rd if you count the incredible Vatican).
We had thought Spoleto would be our stop ("Living in a Foreign Language" by Michael Tucker of LA Law fame is where he lives) but driving the narrow roads frazzled us and we got outta dodge.  
A lovely back road drive along Lago Alviano soothed our jangled nerves and we fell back on Rick Steves for our hotel and dinner suggestions in Orvieto. Both worked well- especially dinner in an open courtyard on a balmy night with Ossobuco and Risotto di Faro.  And oh, gelato on the way back to the room (and Orvieto Classico…a fine white wine).
Tags: duomo, gelato, la law, lago alviano, Michael Tucker, montalcino, orvieto, spoleto