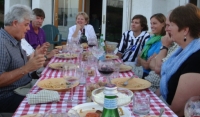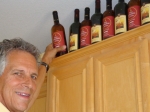 Well,  we have come full circle. The moment we left Montalcino, we were talking of a reunion party and  you all made it happen!
What a beautiful night it was, and many hands made light work, I do appreciate the gift of not waking up to a day full of clean up.
Hearing some of your reminesence were warm tugs at my heart, and listening to Alice made me wish we had had her with us in Deruta.  But ultimately we had prayed all along that God would show us His glory and His creation in the new adventures we had,and then looking around the table, I saw that was in all of you all along.
Let's do this again soon,
ciao,cara amici! 
p.s. check out our dear cooking teacher, AnnaLisa's blog at  fattoriaresta.blogspotcom
Tags: alice, annalisa, cooking, deruta, montalcino