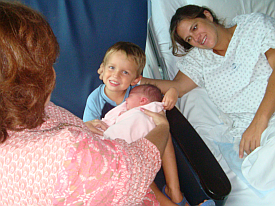 Steve and I left home on Oct.11, 2013 to head out again to Orlando (for work) and Daytona ( to see my dad) and then to Panama to await the birth of our grandaughter, Soleil Naomi Wilt. The princess took her sweet time as she was 9 days late, but appeared on the scene at 20″ and 8lbs 12 oz. We are watching big brother, Carson, while mom and dad have a couple days at the hospital to rest up for real life.
Lots of first impressions of Panama, but I know it's not a complete picture yet as we are in the outskirts of town (Panama City) and not yet to the Wilt home-base in Santa Catalina, some 6 hours away in the jungle.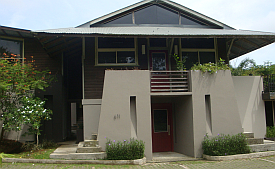 That comes after we spend 10 days in a missionary compound where it is busy and we have been sequestered (my meaning=holed up) in two bedrooms. Our bedroom is about 8′ x 12′ with 4 bunk beds lining the walls with just enuff space to walk down the  middle. Mind you, that and a bathroom is it! We make our meals in the communal kitchen and retreat to the bedroom. The bunks do not allow for sitting without hitting ones head. It feels like you're getting in a drawer to go to sleep. But it's clean and free and it is what it is.
Now I guess my only complaint is there is NO HOT WATER. We clean with a lot of bleach but that shower can be awfully shocking. KC and Jono's bedroom is next door with a double bed and one bunk set. We visit by sitting all around the double bed. Oh, they do have 3 folding chairs — the luxury suite.
It rains a whole bunch here in Panama, it's a Jungle out there! But it's not scattered showers, it's a bucket thrown at you. The country is very green, but they are rather trashy; no litter laws. I guess they figure that something will grow over the mess eventually. The canal that bisects the country is a couple blocks away and the ships are huge! They are enlarging the canal to allow for even bigger ships. Lots of little tug boats scurrying around working 24/7.
But first impression: if you stare at it long enough, it will Rust, Mold, or become Overgrown.
Tags: daytona beach, jonathan, k.c, orlando, panama canal, santa catalina, soleil, steve