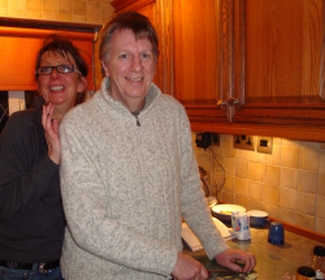 I am in love…and the man of my dreams is a wizard in the kitchen! Karl is an old friend of Gail's and has reentered her life after many years. He is in residence. Besides being brilliant with his own internet company, he makes sure that Gail comes home from the House of Flowers to a warm meal. We have had the most sumptious of dinners here…Thai shrimp, Chicken Cassoulet, Chicken and dumplings,and to-die-for Croissant Bread Pudding (all from SCRATCH)!
–4 (stale) Croissants
–200g.sugar
–4 T water
–250 ml. double cream
–250 ml whole milk
–4 T Bourbon
–4 eggs,beaten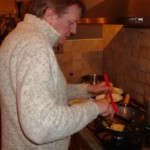 Tear the Croissants in pieces in put in casserole dish. put the sugar in a sauce pan with the water and caramelize by letting it bubble away with out stirring until it turns deep amber. Turn the heat down and add the cream ( ignore the sputtering) and the bourbon. Take off the heat and while still whisking, add the beaten eggs,.  Pour over the croissants and let them soak it up for 10+ minutes. Place in 350 degree oven for 20 minutes and be prepared to swoon!!  
I hope , I hope we can talk Karl into coming to Italy and letting his cooking imagination run wild.
Tags: cooking, croissant pudding, gail, house of flowers, karl