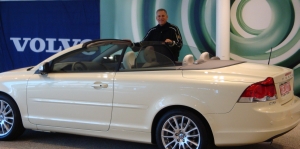 Volvo really knows how to roll out the red carpet!!  So much fun; to be greeted at the airport, a nice hotel, picked up and taken to the showroom with our name on the board.
Then there she was, wheeled into a special showroom where we were introduced.  Her color is "Vanilla Pearl."  We signed some papers, took a test drive, and then relaxed over lunch at the headquaters.  Following lunch was a factory tour and then a test drive of a concept car that stops on its own in slow moving traffic if you are about to bump!  A FULL day!! 
Two other families were picking up cars so we ot to be great friends, swapping stories.  Then we headed to the docks to put her on the ship and head overnight to Germany and the continent. 
I didn't sleep much from too much excitement…so it gave me more praying time.  

Sooooo, since we have named all the electronics we brought with us…do we name the Car???  We are taking a poll.
For larger, more detailed photos of our new baby, make sure you click on one of the thumbnail pictures on our photo page.
Tags: concept car, ferry, vanilla pearl