Barcelona 2, Manchester United 0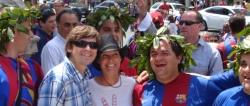 Just us 6 in Rome and 1000,000 of our closest soccer fanatic friends for the European Champions League Final (think SuperBowl)!
Mobs of chanting fans filled every imaginable street and sight (' cept the Vatican)  and were really quite charming and friendly to us.  No alcohol was allowed to be sold the day of the game, so only unbridled loyalty to their team fueled their enthusiasm.  Andy and Lisa nearly scored last minute tickets, but ended watching it, like most of the world, on TV.
Tags: andy, barcelona, champions league, lisa, manchester united, rome, vatican