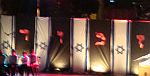 First full day and it's Memorial Day here followed by their Independence day, so every family is out. First, a day of  mourning with sirens for silence, flags, lots of troops out for protection and services to honor all who have lost their lives in any modern-times Israel war (and remember their days start at sundown). And then we enjoyed their Independence Day when they became an official country on May 10,1948 (and Steve's exact birthday!)
We are all amazed at the number of Muslem cities and mosques in this country, and to find out that the West Bank is actually Samaria and on the west side of the river Jordan — smack dab in the middle of this country!!!!!
I feel like such a dummy, and it's full of Palestinians and they want Israel to give it to them? Hellooooooo. They already gave them the Gaza. They are being picked to death by chickens with guns and minerets (don't push Israel)!
Tags: gaza, indepenence, memorial day, paelstine, river jordan, samaria, steve