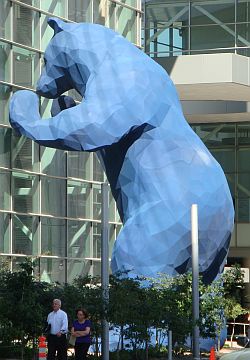 Our suitcases were calling out, so after one month up on the shelf, they are packed again and on an excellent adventure.
Steve is working a convention in Denver (that is the convention center with a big blue bear sculpture looking in) for Pfizer and that is always an open door to see more of the world.  
We are headed to Yellowstone National Park, and Couer d A'lene, Idaho with lots of stops on the way. We fly home from Seattle.
This is new territory for me!
Tags: couer d'alene, denver, pfizer, seattle, steve, yellowstone national park