My tales of this years' travels would not be complete without mentioning LasVegas!  Steve was covering a convention for Pharmacists Dec. 6-9 at the Venetian. It was cold and rainy, but  the storm dusted the surrounding mountains with snow and left everything so fresh and clear.  I was eager to see how Vegas decorates for Christmas and I was mostly disappointed, except in the Bellagio; oh my , what a showstopper!! Lights, flowers, pointsettas, snow, music, and a little magic. 
We also enjoyed meeting up with the Finnanes for dinner at the restaurant "Switch", a restaurant whose walls and ceiling change decor every 20 minutes, and Suranowitzes for dinner at Grand Lux Cafe , owned by Cheesecake factory.  I had a great time being on my own: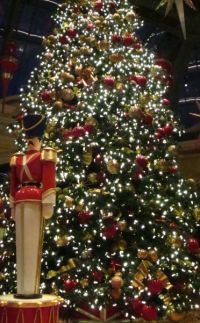 window shopping, reading, people watching.  A lot of the Italy scenes at the Venetian tugged at our hearts as they reminded us of our time spent seeing the real thing (like the mimes, or musicians or the art).
Long drives, but got a book on tape from the library and it made time speed by.   Now I return a week behind for my Christmas plans ,and to embark on Radiation. Then I can have a Holiday Glow too!
Tags: bellagio, cheesecake factory, christmas, convention, finnanes, grand lux cafe, las vegas, pfizer, radiation, suranowitzes, switch, venetian