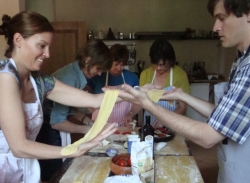 Cooking with AnnaLisa Tuscan Style
We all learned something about cooking, pasta, wine, tradition, and most of all hospitality on our day in Resta at the home of AnnaLisa. She shared with us her passions for the land, her wine, her home and the chapel on the grounds.
We cracked a few eggs, kneaded some dough, sliced and diced and made an awesome meal, that we enjoyed on the covered 2nd story terrace of her home.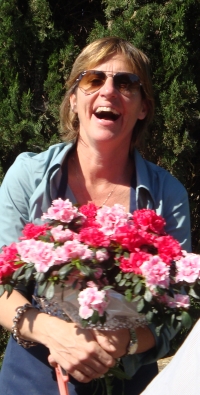 Our menu included foccacia, tagliatella, pinci, tomato/garlic sauce, an eggplant dish to die for and tirramisu .We all were delightfully  surprised on how fresh and wonderful it all tasted.
Several of us had had bad prior experiences with some of the dishes (I had never had an eggplant that I had liked, and most of us were not looking forward to the tirramisu).  Boy, were we blown away with how fabulous ,and amazing it all was. 
The time with her and each other was almost an out-of-body experience as we reveled in the tuscan gastronomic  experience!
Tags: andy, annalisa, cooking, jeane, kathie, lisa, resta, steve