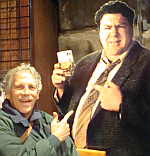 Winding down on our East Coast Tour. It is perfect weather in Boston and we arrive for Veterans Day. Because of our military ID's, our Hop-On, Hop-Off  Trolley is FREE!  While Steve works his Liver Convention, I get to tour the city.
My game plan is usually to take the trolley for the whole circuit and then decide where I want to Hop Off.  The Tea Party Museum (new, and fabulous), Beacon Hill for lunch, Faneuil Hall and Quincy Market were my choices.
At night we journeyed to the North End, which is 95% Italian! What an experience we had the first night at Daily Catch Restaurant for dinner. The place  holds, maybe, 16 and the kitchen and one chef is right there doing his thing. You sit with others, help pass things, interact and are truly amazed at what can be done in such a dinky space (my bathroom and closet are bigger).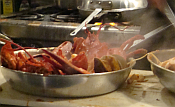 The line snakes out in front of the door and hungry faces gaze in and bet which diner is closest to finishing. It is worth the wait. I dined on fettuccine and shrimp in white sauce and Steve had squid ink pasta al freddo. And then a stop at Mike's Pastry for jumbo Cannoli!   Mama Mia!!
Good thing we had a decent walk to get to the subway. Past the Meeting house and Fannueil Hall, in front of John Adams, cross to the underground. Take the Greenline Heath spur and off at the Prudential stop for the Sheraton Hotel. Just like a native!
Tags: beacon hill, boston, faneuil hall, john adams, pfizer, quincy market, steve, tea party