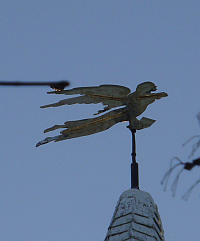 Newburyport, MA is the most picturesque and typical New England town! We got to catch up with brother-in-law Art and wife Phyllis Levine here and were totally charmed by this place and our walks to the Merrimac River and brick-sidewalked streets.
I found out they are famous for a particular angel. There is a weather vane in town that was originally created for the First Universalist Church of Newburyport. It later became immortalized in a painting illustrating folkart, and then became a postage stamp! The painting is in the National Gallery in Washington D.C. and the original angel is in the Smithsonian. A replica has been moved to the Peoples' Methodist Church just outside of downtown.
After some sleuthing, we found the Angel Gabriel!
Tags: art levine, merrimac river, national gallery, newburyport, phyllis levine