On August 17 I was running the America's Finest City 1/2 marathon. Only 3 miles into a 13.1 mile race, I found some uneven pavement and fell, turning an ankle. 7 miles later I decided I probably should stop running. My doctors concurred. I should have stopped sooner. My 1/2 marathon in Parma, Italy 4 weeks later in all likelihood would not happen.
In the ensuing 4 weeks I did my exercises and wore an ankle brace and compression sock any time I was on my feet.
Here in Europe I didn't do any running, but a lot of walking through Saltzburg. Having made it to Parma, I wanted to experience the excitement with the 6000 (1500 doing the 1/2) runners at the starting line.
Would I be able to run?
Could I complete the run in the allotted time?
Could I walk part of the course?
Could I savor running in a foreign city and just enjoy it for what it was?
The race course zigs and zags through the streets of Parma. We actually ran 2 laps around the downtown section. What a great feeling after running 1/2 mile knowing my ankle was not going to be a concern during the run. It also was a great course for spectating (which I thought I would have to do after the ankle sprain). Debbie and our friends Wally and Pam from Colorado Springs were there to cheer me on at almost every turn. I think they ran almost as much as I did. I enjoyed hearing everyone around me speaking Italian and being encouraged by fellow runners, viewing the architecture of the many ancient buildings, and of course, crossing the finish line to cheers in a tongue I didn't understand. The Run became the universal language for me and I praise God I got to be a part of it.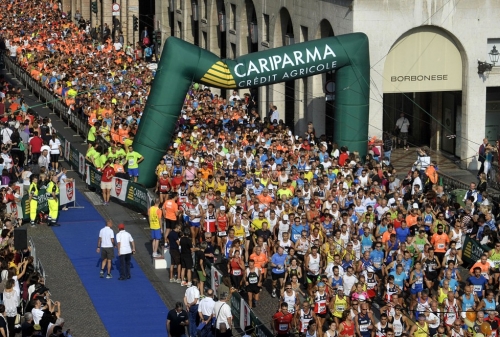 Tags: debbie, half marathon, pam hasbrouck, parma, saltzburg, san diego, wally hasbrouck