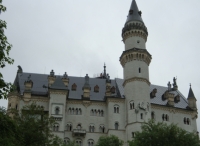 Awesome day, tho' raining.  We headed out to Neuschwanstein Castle.  Think Disneyland and Mad King Ludwig. Oh my goodness!  Incredible!  It has such a view, waterfall, murals, and a hike. It is AMAZING to come upon this sugar-cube castle sitting on top of a mountain, built before major roads, heavy equiptment or tourists.
After our hike in the rain through  the forest, we had a pretzel and some fried "snowballs" (do-nut like or even begnet with powdered sugar) which we scarfed down after all the exercise.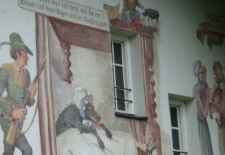 Then headed into another mountain valley to Oberammergau – site of the every-10-years Passion play.  Cute!  Do you think dirndls and leiderhosen will ever catch on in San Diego?? It was tempting  to buy one, and people do wear them in everyday life to some extent.
Throughout Bavaria, the houses have beautiful paints on the exteriors, history, or religious, and even a few fairytales. I'm gonna fall again, if I don't watch my feet and keep my head out of the clouds.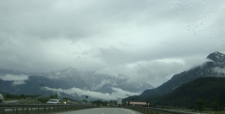 There was so much history today, I was at a loss to know what I was looking at.  Shame on me for not thinking beyond Italy (who can blame me).  But I'm gonna do some google-ing and bone up.
Tomorrow we hit Innsbrook (swaraski crystal world) replica rolex and then 4 days in Salzburg (staying at a pension just outside of the city).  I'm ready to yodel, it's so exciting to see all we are seeing!!!
Tags: bavaria, castle, dirndes, disneyland, donut, google, innsbrook, king ludwig, leiderhosen, oberammergau, pretzel, rick steeves, salzburg, san diego