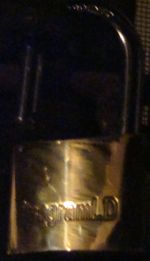 We are currently residing with Dr. Perry and Brenda Jansen and their kids Nate, Erin and Olivia. They live in the older section of town on an acre surrounded by a 10′ block wall, topped with an electric fence and barbed wire. There is a guard on site 24/7 and an on-call private security firm.  Brenda says if you call the police, you'd probably have to go pick them up and give them a pencil and paper to write up the report.
Our attached guest house has two entry doors with dead bolt and an iron gate with a 5 lb padlock that we latch every night. Let's see, bars on the windows, 2 German shepherds, I guess that's it.
Oh and the best protection, is the mosquito netting over the bed.
Tags: brenda jansen, dr. perry, erin jansen, lilongwe, nate jansen, olivia jansen