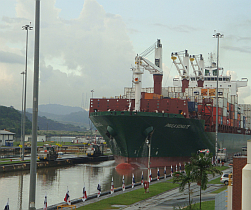 Both our parents took cruises through the Panama Canal when they retired and had saved up. It was and is still high on the list of must-sees in the world.
I am reading "The Path Between the Seas" by David McCullough, which is the 40 year history of the attempts to join the Atlantic and the Pacific.
I know a plethora of  trivia about the 50 mile span that links the continents via the oceans:  5 locks that raise enormous ships up 85 feet to traverse a lake in the center and then down again to sea level. All tolls must be paid in cash and the largest toll as of two years ago was $350,000 paid by the cruise liner "Disney Magic."
Coming up on its centennial year in 2014, they are enlarging the locks to accommodate even bigger ships.
It takes a better part of a day to make the trip but saves over 7,000 miles of transit.
They had to cure yellow fever, and tackle malaria which were each spread by different kinds of mosquito. First you had to convince the authorities they were caused by mosquitoes, at first it was thought to be the mist, or the filth.
Over 500 lives were lost per mile on this project.
This is an average container ship coming through the Miraflores lock near the Pacific Ocean as seen from the viewing platform.
Tags: david mccullough, panama canal, the path between the seas