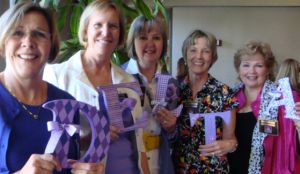 Got brave and went to a reunion of my sorority at the University of Redlands.  Delta Kappa Psi celebrated its 100th  birthday at a beautiful luncheon and afternoon tea, and my pledge class celebrated 40 years since we joined.
I haven't seen most of these Lavender Ladies since graduation, 39 years ago though Christmas cards keep us updated with some.  Many hugs, tears, and remembrances! I think we look great (you can tell who we still are, if that makes sense), and are all on the verge, or have just retired and are eagerly tackling new challenges. And not to be trite, but 60 sure looks and acts like the new 40!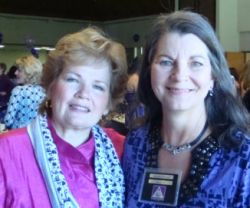 A few aches and pains, several grandchildren — or none at all — lots of travel, and all good people. I even made some new delta friends from other classes.  Imagine, 425 ladies attended out of the 1200 members that are still alive — a whopping third!  We were singing sorority songs, eating, and drinking a lot of wine or ice tea.  I never thought I'd be at this end of the spectrum, age wise, but was amazed and challenged by the sisters attending who were in the decades ahead of me.
What a beautiful day to treasure forever!
Tags: christmas, delta kappa psi, lavender ladies, retire, reunion, sorority, travel, university of redlands, wine