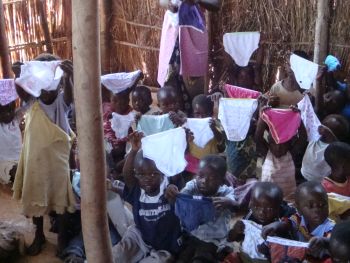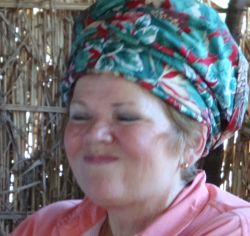 Steve and I had the privilege of being part of a training day at Kawiya Village outside of  Zomba. We knew to bring head scarves and panties to distribute and you would have thought is was Christmas!!! The singing and dancing that the Gogos did with their new bandanas ( tied all sorts of ways) and the children, many who immediately put on their new underwear.
We prepared and ate lunch with the village and presented knit quilts to the 2 chiefs. We were there about 5 hours.
As we were leaving and hugging and singing and dancing, a Gogo in tears thanked us and said " the Love of God brought you here." And I'm thinking in my mind,  "wait a minute, lots of planning, lots of money, and lots of sacrifice got us to that crazy place."  But in an instant, I was shown a bigger picture.  Because I love the Lord, retired, joined SEEDS, see others putting their faith in action, decided to step out, had Partners in Hope and Gogos capture my heart (and it catching many of you)…Yes, I joined her in tears because God loved me enough to bring me there.
Tags: christmas, faith, gogo grandmothers, kawiya village, partners in hope, seeds san diego, zomba