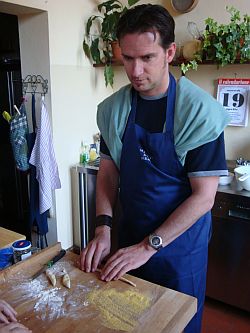 Being with Annalisa Tempestini in her home in Resta, Tuscany is like stopping the world and enjoying the very best in flavors: food,wine, and life.
The "home" (former monastery) was started in 1571 by the contractor/mon Martin del Nero. He wrote a prayer in the cement in the basement,blessing the home and the wine to come, and it is STILL recipient of that prayer.
We enjoyed cooking with Annalisa, making Pinci, sauteed  fresh harvested artichokes, stuffed zuchinni, foccacia and dried tomato/caper spread. Gelato and dark cherries topped off a PERFECT afternoon.
And of course, a bottle of the legendary Martin del Nero.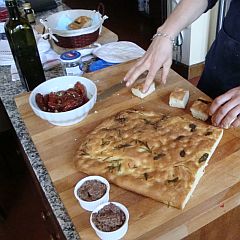 Though as busy and stretched as a mom-artist-yoga instructor-writer-cook-winemaker can be, she made us feel her world had stopped for us and our time together.
I wish I could send you the flavors and aromas, or bring back a bottle of them in my suit case. Bella, Anna Lisa, grazie,grazie.
Tags: annalisa, martin del nero, pinci, resta, wine