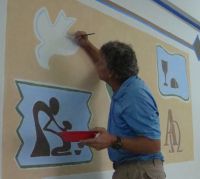 Well there are times when I just can't get up on that ladder one more time.  Steve to the rescue! He says I am making him into and artist…no dear, I am making you into a painter.
We finished two more projects yesterday and today, but I forgot to take pictures.  They are faux batik wall hangings in a long empty hallway between the hospital and the AIDS clinic. Tomorrow we paint in the Childrens' Corner!
Isn't he cute, he even dressed to match!
Tags: batik, painting, steve, takambe youth center