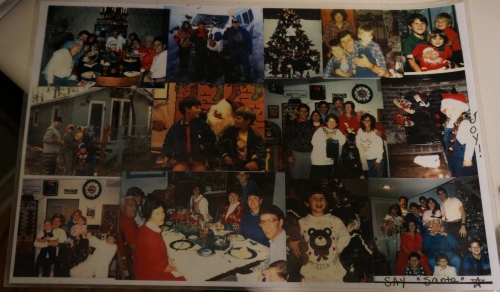 Quite a few years back I took lots of holiday photos to Kinkos (that should date me). They were open 24 hours a day and there I was at midnight a few days before Christmas putting this collage of Christmas pictures from over the years on the face of the copier machine . Then I laminated them into place mats to give as Christmas presents to our folks. The happy photos contained more and more little faces as kids and cousins were born and family traveled to be together. Joy was on every face around the dinner table, or in Santa's lap, or coming in the door with armloads of gifts.
I have inherited those mats as our grandparents and parents are no longer here to physically share the day.
I miss them.  
Terribly.  
I even wondered, as I made them part of the center of my dining table this year, if it was making me too sad to look at them. It was bittersweet viewing me hugging my grandmother, seeing the resemblance of a child to an Aunt that left us too soon, or the kids lined up around relatives who are literally 'not in the picture' anymore.
But I think I had an Epiphany ("a sudden, striking realization, a new and deeper perspective")!
I look at the little faces currently sitting around the kitchen table or that I just skyped, or even at the sonogram of the little one that is growing in its mommy's belly and I realize to my very core, that they are here! They are here, and they are here because the others moved on. And it's ok. I miss the past Christmas' with all my heart, but these current and future ones have such beautiful faces filled with their own joy and innocence. They just melt my heart. Spoken like a true grandma.
I am the oldest generation in the photos now (that's scary!). I am also an important part of our family legacy because future generations stand on my shoulders and reach high into their own future, just as I did on those who came before me: those whose lives weren't as easy, or came from other countries, who had other traditions, married us, and melted into what we know as our family today. (Gosh, I'm feeling wise.) Mom's with us thru a recipe in her own handwriting, Grandad in an awful joke we retell, and we all bear striking resemblance to someone.
Joy never diminishes by sharing it, and I think that is not diminished by time. I am immeasurably thankful to the dear ones who aren't at the table because they have scooted over for the sweet faces who now share this holiday's joy. And when the time comes, I will scoot. But ultimately, I look forward to the heaven where Christ will entertain us ALL at His table…that will be some Christmas!!!
Gallery
Click the thumbnail to enlarge, sorry bout the glare or cut-offs
Tags: christmas