The clock is ticking on Montalcino and Italy.  We have been enjoying the company of Andy, Lisa, Jeane and Kathie in Florence, Siena, Montalcino of course, and now headed to Roma.
We have heard lots of horror stories about pick-pockets and gypsies so we go with some intrepidation. And to top it all off, the SuperBowl of Soccer is this week.  It has been so hard to find accomdations . 
We covet you prayers for our safety.  Did i mention we have a Heat Wave  90+ and humidity?
So we are off on another marvelous adventure!!!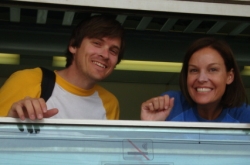 Tags: andy, champions league, florence, jeane, kathie, lisa, montalcino, rome, siena