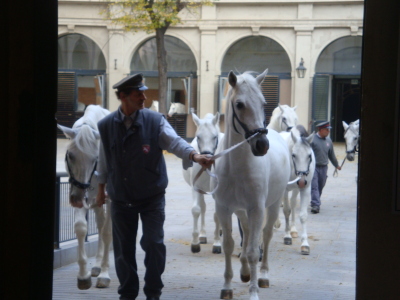 What's born black, turns grey, and at 10 years of age turns WHITE?
If you've been here you know it's the Lipizzaner Stallions of the Spanish Riding School; you know that drill team of white horses that can leap in the air and seem to glide through their routines.
We went to a practice session (at 14 euros per person , we couldn't afford the 100+ fee for a show). It was rather enthralling to see them put through their paces and also to train the up and coming colts.
It takes 10 years for them to be show-ready, but they live over 30 years and are pampered like you can't believe.
We got a special treat when we were ambling around the Habsburg Palace grounds and they were escorted from their stables to a private training ground right in front of us. NO one gets that close!
Tags: lipizzaner stallions, vienna