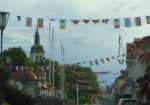 Spent a delightful time on the lake enjoying the city of Granna (please realize all these swedish names have dots, dashes,hooks,and an alphabet we wouldn't recognize).
One hundred and fifty years ago, a little widow and her daughter came to this city of well-to-do people living by a lake and experimented with what she knew best: candy. She came up with this hard taffy and added a colored and flavored stripe. A few more experiments later, and we have the peppermint stick.  I do not know who put a crick in it and called it a candy cane.  After awhile, her daughter took over the prospering business, and then the granddaughter.  The city wised up and now everyone in Granna makes Peppermint sticks (and many other flavors) I bought some of several flavors (about 6″ long).
They have a beautiful location on the lake, where we had a Father's Day Dinner of really good smoked salmon (caught on the lake) and a swedish potato salad. Finished off with an ice cream cone! It was almost as good as gelato.
We are staying in Huskvarna…think power yard tools, and sewing machines.  They even own Viking. The town has a Fabric Museum–I think I'll pass.  They have quite an industry here, but then you never know what surprise waits around the bend.