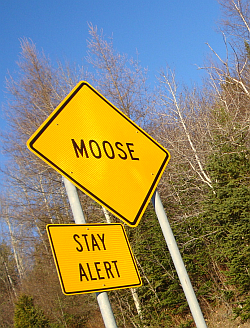 As you well may know, my bucket list mentions seeing a moose in the wild. I'm not sure why but for the fact that I have been many places where they should be and they haven't been.
This trip causes me to ponder the wonderful things and people I did see this time around but there is that void…no moose! Vermont and New Hampshire even had moose-killing season the week before we were there and they bagged 203 in northern Vermont alone, to thin the populace. But could I find one? Noooo
I guess I'm dealing with some pretty "Alert" critters.
Tags: moose