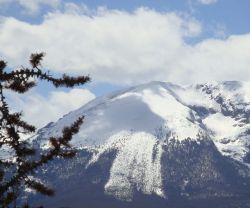 We were graciously hosted by  Darlene and Chuck Kroll at their condo in the mountains near  Silverthorn . With snow covered peaks surrounding us, we took in the beauty  of the region and did a little driving, a little hiking, and a little sitting  by the fire with a book!
Breckingridge and Vail were not too far away and we  explored them also, but because it wasn't winter for skiing, or summer for biking  and hiking, most everything was closed for Mud Season; the time when the  ground is just soggy with the snowmelt and spring rains.
I mean to tell you that shops, restaurants, and some roads were closed up tight!  So I had to spend time at the Outlets, darn.
Tags: breckinridge, kroll, silverthorn, vail