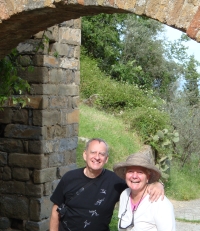 We celebrated Jeff and Carolyn Serfass arriving from Washington D.C.  They have joined us in the celebration of Mothers Day and Steve's Birthday.
Walks, wine, Siena, Buonconvento and more good pasta all enjoyed with awesome weather.  This is the first Mothers Day with no flower shop in 20 years (and we could celebrate Steve's birthday without him being on delivery).
I was a good girl and did not volunteer at the local flower shop, tho' the owner is a delight!
Tags: buonconvento, flowers, mothers day, serfass, siena, steve, Washington DC, wine