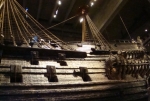 We headed out to dinner (at the "Beefeater") after our long drive and checking into our very minimalistic Scandia Hotel room.  A couple gents at the table next to us asked us where we were from.  I guess  quisically looking at a swedish menu in a british pub gave us away. We in turn asked them what we should see in Stockholm during our brief stay. They said "Vasa Museum, Skansen Park, and check out Lake Vattern on your way to Goteborg."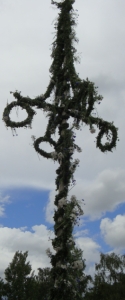 We took all of their wonderful tips and found everything to our liking!
The Vasa Museum houses a 1600's war ship that was elaborately made for King Adolphus II, who wanted to know how powerful and rich his kingdom was, so he had this magnificent sailing ship built, carved, gilded, rigged.  He then sent for it to pick him up in Poland, where he was trying to impress his cousin (who also wanted to take over Sweden).
So, with full sail, and all the cannon windows open, off she went.  A big wind tipped her, the balast shifted, and water came in the cannon holes and she SUNK a mere 27 minutes into her maiden voyage.     She was supsequently forgotten about until 1956, when she was re-discovered.  Because of polution in the harbor, and the Baltic is less salty than the other oceans(?), she was preserved intact!  (I was really captivated by this story, but i'm getting long)   It is a must-see!
Then on to Skansen Park, whick is a williamsburg-type of place, portraying Swedish life in earlier times. But the funnest part, was the Maypole and all the folk dancing. Today is the day when girls put halos of flowers in their hair and everyone gets into the great outdoors and does a jig about it. There was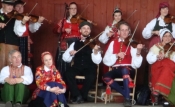 great music, awesome dancers, replica breitling and thousands of silly people.
This is a great place when the sun doesn't go down!
Tags: baltic, goteborg, king adolphusII, lake vattern, maypole, skansen park, vasa museum