Going to Florence during Holy Week, during Spring break is like going to Disneyland on their busiest day. INSANE.
We took the train (smart) and headed to all the major museums that are CLOSED mondays!!! Tried to share one of the most awesome restaurants views for lunch only to be discouraged by the $30 cover charge (that means for linens) and higher prices.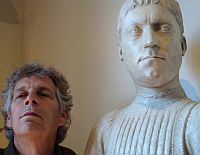 Lost each other, lost our tempers, lost our minds.  Gelato is almost the universal panacea!
Made our 5 minute window train-change in the nick of time as it was the last one of the day. But all wasn't a loss: bought 10 more scarves at the San Lorenzo Marketplace  🙂
Tags: florence, gelato, museums, san lorenzo marketplace, scarves, train