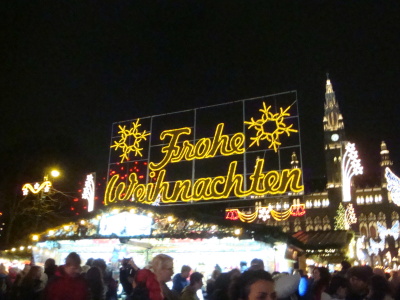 Finally!
All the anticipation has been worth it.
The "Christkirdelmarik", or Christmas/Advent markets are finally open.
The mayor or dignitary plugs in the towering Christmas tree, the oompah bands play, and the little kiosks are open to selling their handicrafts, warm drinks, chestnuts, bratwursts and just about anything you can think of. Add a ton of evergreens, twinkle lights and sweet smells and you have the recipe that inspires one to be a little kid again.
Two years ago I gave to a local thrift shop all my holiday decorations. It was very freeing. And because of my store, and all the decorating it demanded, my family gave me grace, and I haven't put up a tree for almost 15 years! NO I am not a Grinch.
All my holidays were consumed by the flower shop and all the church music I was responsible for as organist and choir director.
This year I am decorating for Christmas in my heart by filling all my senses with the sparkle and delight of the coming of the Christ child. I have seen two markets and each was different. THE oldest one since 1570 and rated #1 is in Strasbourg. Two more days!!!
This is a once in a life time experience and I'm loving it!!
Tags: christmas, christmas markets