Gethsemane, Upper Room, Mt of Olives….
I would find all of these very moving if it weren't for the huge crowds of tour groups and making sure not to gather with the wrong bus load from Alabama.(the olive trees were artistically gnarly) We were alone as a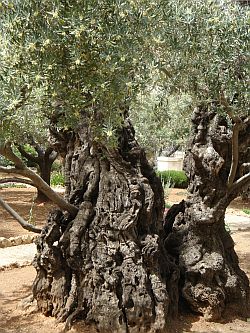 congregation at the Mt. of Olives at 6:30pm with a strong wind, singing, and reading the scripture ( and watching gun shot puffs in the valley below)   I don't need the real deal for it to be real in my heart, but I now have images in my head ( and in my camera) instead of the previous ones from a DeMille film!