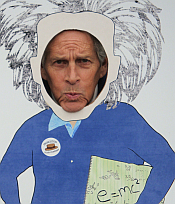 Princeton in a fabulous town!
We loved walking the main street and the campus of Princeton, one of the  most beautiful I have ever seen. It was full of fall color, squirrels hiding nuts, young men and women hustling around, and a few drunk kids gearing up for the afternoon football game. Nothing but the best of college life!
This was the home for Albert Einstein, a professor here for the last couple decades of his life.  
This is not Einstein.