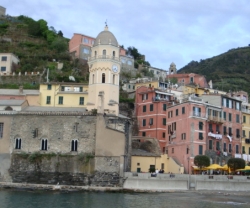 We bid a sad farewell to Mary and Ron at the Pisa Airport ("Galileo Galilei") and with a change of undies in a backpack, headed up to the Cinque Terre (5 lands).  There are 5 incredible towns clinging to sheer rock faces still inhabited by families going back many generations.  Tourists have found this unique site (thanks to Rick Steves, and we all carried around his tour book) with its train and trails connecting all five towns.
We spent the first night in town two, Manarola, and found it charming and approachable.  We even ate the local seafood at mealtime.  The next morning we ventured up to Vernazza, #4, and deemed it better than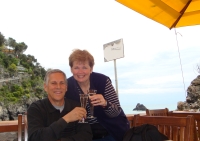 Manarola.  It took us awhile to find a room.  We ended up with a shared bathroom across the hall, which was ok by us as the town was filling up.  At least we had found a place. 
When we got back on the train and went up to Monterosso, the #5, it became our new favorite  It had delightful beaches and was more spread out.  We had a great panino and prosecco outdoors at a place with tables nestled snuggly on a rock.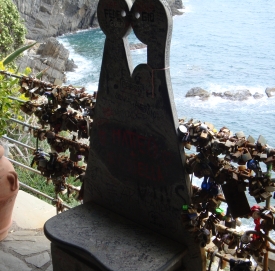 We took the train down to the first town, Riomaggiore,where we hiked the "Via del Amore" – a short paved path between the 5 towns – with breathtaking sheer drops to the sea.  Steve clung to the wall. 
Many proposals of marriage happen here.  The seat and the padlocks that couples bring in honor of this romantic occasion are to seal the deal.
Then, it was back to Vernazza for pizza on the waterfront, and on to Il Pirata Cafe for two Canolli – the best yet!
A little rain did not dampen the adventure.
Tags: cinque terre, jensons, manarola, monterosso, pisa, rick steeves, riomaggiore, steve, vernazza