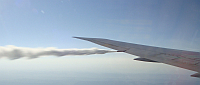 San Diego to Houston, Houston to Amsterdam. How did Newark get in there? Nothing like having the pilot come on over the intercom an hour out of Houston and tell us we have lost our navigation system and we have to land. Oh yeah, and dump fuel because we're too heavy to land so soon!
This is our plane jettisoning a LOT of gas over Kentucky. Then we head to the coast and follow it up to Newark, New Jersey, where they think they can give us a new part or a new plane. We never flew higher then 13,000 feet or faster than 300mph. That is low and slow for a plane holding over 300 passengers. And we all got to stay in the plane while they gave us a new system.
Obviously we made it to Amsterdam and we had no further connections. We got train tickets to Venlo, ND and then a bus ride to our hotel and that's all the stress I want for this whole trip!